Here you can view and enquire about my available original artworks. Ranging from my architectural landscapes, to my global countries and continents, and to my ancient worlds, there is plenty to discover. All original works come framed as shown, and can be shipped worldwide.
:: PLEASE NOTE THAT IF ANY ORIGINAL WORKS ARE SOLD, THEY WILL NO LONGER BE VIEWABLE ON THIS PAGE. HOWEVER, PRINTS OF SOLD ORIGINAL ARTWORKS WILL STILL BE AVAILABLE ::
Thank you and enjoy the art!
Titanic
2023
Pen & ink on cotton canvas
20″ x 30″
£7,700  GBP
The Viking - Tales of the Mariner
2023
Pen & ink on Linen canvas
20″ x 16″
 £3,000 GBP
The Survivor - Tales of the Mariner
2023
Pen & ink on Linen canvas
20″ x 16″
£3,000 GBP
A Norse Tale
2022
Pen & ink on linen canvas
36″ x 48″
Price on Request
The Pyramids of time
2018
Pen & ink on cotton canvas
15″ x 30″
£7,000 GBP
A Greek Odyssey
2020
Pen & ink on linen canvas
36″ x 48″
Price on Request
Mount Olympus
2022
Pen & ink on linen canvas
30″ x 40″
£7,500 GBP
Tutankhamun
2018
Pen & ink on cotton canvas
16″ x 24″
£4,000 GBP
Ascend the Acropolis
2020
Pen & ink on linen canvas
24″ x 36″
£9,000 GBP
London
2020
Pen & ink on cotton canvas
36″ x 36″
£20,000 GBP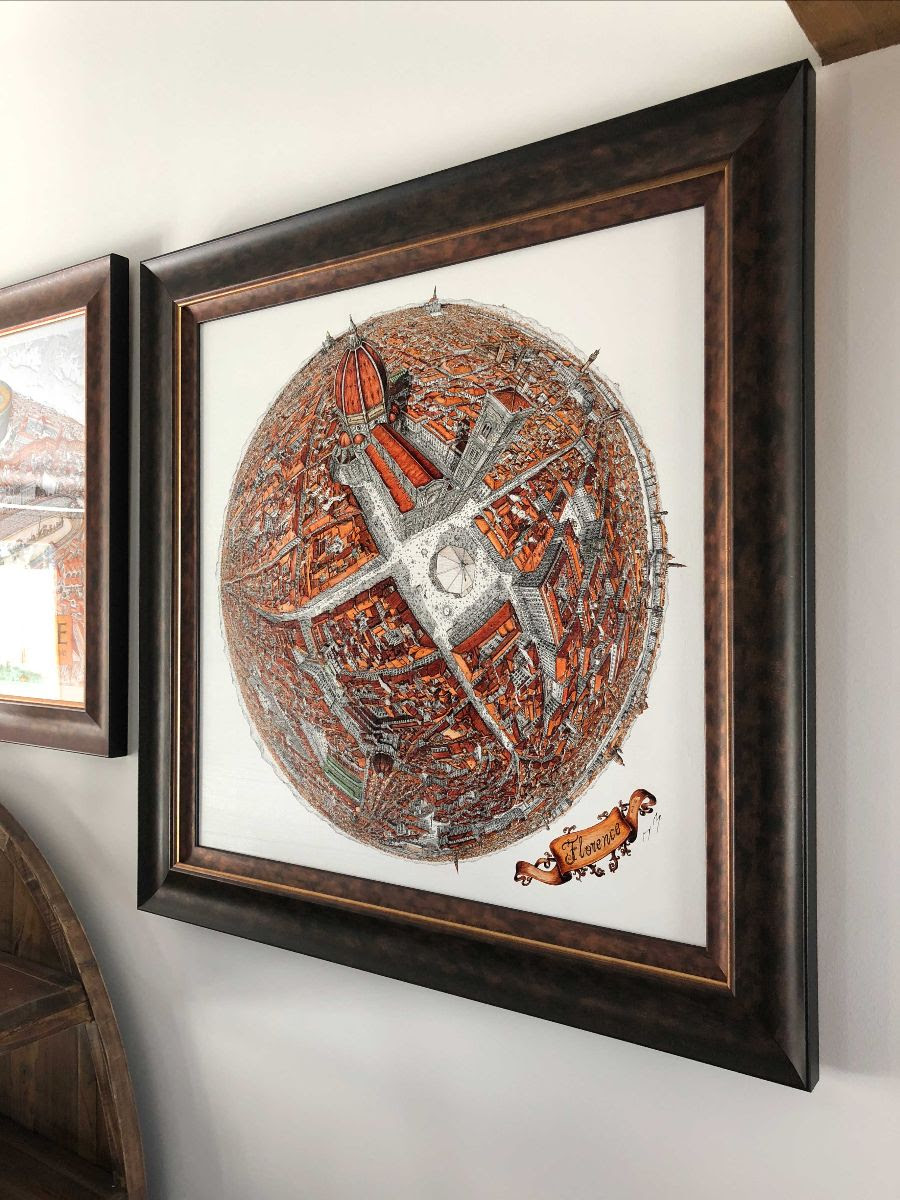 Florence
2018
Pen & ink on cotton canvas
28″ x 28″
£12,000 GBP
Bubble Bath
2015
Pen & ink on cotton canvas
16″ x 16″
£2,500 GBP
Saint Basil
2017
Pen & ink on cotton canvas
20″ x 20″
£2,000 GBP
The Big Apple
2015
Pen & ink on cotton canvas
33″ x 33″
£8,000 GBP £4,000 GBP
:: PLEASE NOTE, THIS PIECE HAS DAMAGE TO THE CANVAS, BUT CAN BE RESTORED ::
The City of Italy
2021
Pen and Ink on Linen Canvas
24″ x 36″
£12,500 GBP
The Eclectic Frontier
2015
Pen & ink on cotton canvas
32″ x 40″
£8,000 GBP
The Vicarious South
2015
Pen & ink on cotton canvas
30″ x 40″
£7,500 GBP
This is New Zealand
2013
Pen and Ink on Cotton Canvas
20″ x 24″
£6,000 GBP
Wake Up
2012
Pen & ink on cotton canvas
18″ x 24″
£5,000 GBP
Game of Thrones
2017
Pen & ink on linen canvas
30″ x 48″
£7,500 GBP