Here you can view and enquire about my available original artworks. Ranging from my architectural landscapes, to my global countries and continents, and to my ancient worlds, there is plenty to discover. All original works come framed as shown, and can be shipped worldwide.
**Please note that some pieces have been reduced in price**
Thank you and enjoy the art!
London
2020
Pen & ink on cotton canvas
36″ x 36″
£25,000 GBP £20,000 GBP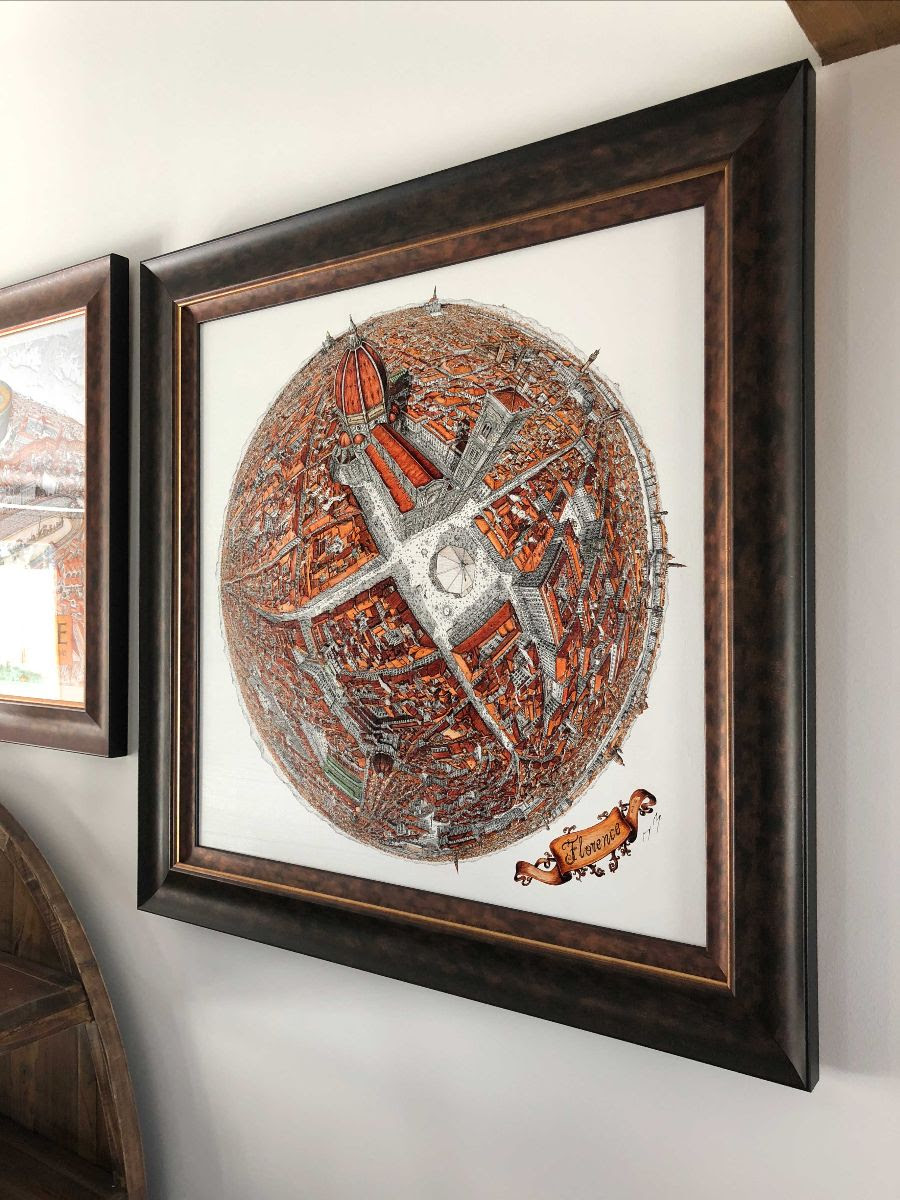 Florence
2018
Pen & ink on cotton canvas
28″ x 28″
£16,000 GBP £12,500 GBP
Bath time
2019
Pen & ink on cotton canvas
15″ x 15″
£2,500 GBP
Seven
2021
Pen and Ink on Linen Canvas
36″ x 24″
£7,700 GBP
Ascend the Acropolis
2020
Pen & ink on linen canvas
24″ x 36″
£9,000 GBP
The Pyramids of time
2018
Pen & ink on cotton canvas
15″ x 30″
£6,500 GBP
Tutankhamun
2018
Pen & ink on cotton canvas
16″ x 24″
£3,500 GBP
Caesar Augustus
2017
Pen & ink on cotton canvas
18″ x 24″
£3,000 GBP
Greece through time, Egypt through time, Rome through time
2018
Pen & ink on cotton canvas
16″ x 20″
£4,500 GBP each
The City of Italy
2021
Pen and Ink on Linen Canvas
24″ x 36″
£12,500 GBP
The City of Australia
2018
Pen & ink on linen canvas
30″ x 48″
£21,000 GBP £16,800 GBP
The City of the Middle East
2017
Pen & ink on linen canvas
30″ x 40″
£16,000 GBP
The Eclectic Frontier
2015
Pen & ink on cotton canvas
32″ x 40″
£8,400 GBP
The Vicarious South
2015
Pen & ink on cotton canvas
30″ x 40″
£7,500 GBP
The Mystic East
2017
Pen & ink on linen canvas
30″ x 40″
£18,000 GBP £10,800 GBP
Magical India
2014
Pen & ink on cotton canvas
30″ x 40″
£7,000 GBP
Harry Potter Hogwarts
2019
Pen & ink on linen canvas
24″ x 36″
£7,400 GBP
Game of Thrones
2017
Pen & ink on linen canvas
30″ x 48″
£8,000 GBP